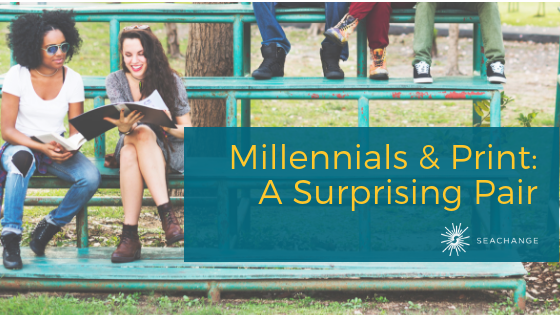 They've grown up in the digital age, and they're incredibly savvy with social media. But that doesn't mean Millennials eschew print. In fact, as the resurgence of print books ¹ and vinyl records has shown, Millennials are drawn to tactile experiences.² Consider these stats:
54% love and look forward to receiving catalogs
78% of Millennials prefer print books to ebooks
57% prefer mailed invitations to evites
77% pay attention to direct mail advertising vs. only 51% to emails
What's behind the affinity for print? The simple answer may be that it's a welcome break from the busy digital space. But another very important consideration involves Millennials' lack of trust. Compared to digital documents, print is seen as more official (88%), more trusted (82%), and safer/more secure (74%).4
It's an important lesson for any company trying to win over a group with $200 billion in annual buying power - and that number refers just to the U.S.
5
As you're planning your next campaign, consider print. Better yet, make it part of an omni-channel approach. It's a smart way to make your business look trustworthy and to appeal to a generation grown weary of the media that's defined it.
Looking for some fresh ideas that will capture Millennials' attention? Let's start the conversation.
1 Market Watch. Physical-book Sales Are Staging a Comeback After Many Years of Decline. Available at: http://www.marketwatch.com/story/physical-book-sales-are-staging-a-comeback-after-many-years-of-decline-2016-08-22. Accessed January 26, 2017.
2 American Marketing Association. Understanding the Unlikely Chemistry Between Millennials and Print. Available at: http://blog.ama.org/understanding-the-unlikely-chemistry-between-millennials-and-print/. Accessed January 26, 2017.
3 Quad/Graphics. Customer Focus 2014 Research Study.
4 TRU. Millennial Paper Usage and Attitudes. Available at: http://printinthemix.com/research/show/88. Accessed January 26, 2017.
5 Forbes. 10 New Findings About the Millennial Consumer. Available at: http://www.forbes.com/sites/danschawbel/2015/01/20/10-new-findings-about-the-millennial-consumer/#58487bf828a8. Accessed January 26, 2017.