---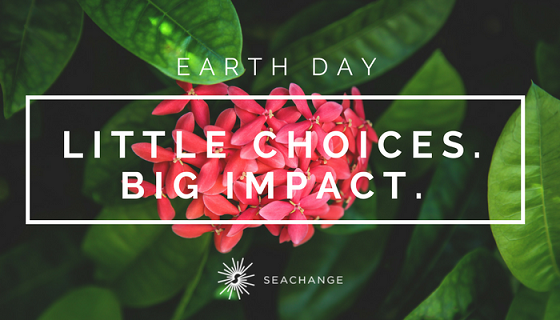 Earth Day: Little Choices. Big Impact.
As we celebrate another Earth Day, it can be easy to feel overwhelmed by all the waste. Even if we're doing our part to reduce, reuse, and recycle, seeing pictures of pollution in big cities or trash islands in the ocean can make us wonder how can we make an even bigger impact.
This year people across the world are focusing on a specific goal in honor of Earth Day: End Plastic Pollution. Plastic pollution is one of the most important environmental problems that we face today, and this international effort aims to eliminate single-use plastics and achieve global regulation for the disposal of plastics.
SeaChange is committed to proactively being a part of the solution, and we're launching our own campaign that includes educational tools, a park cleanup day, initiatives to reduce our own plastic pollution footprint, and a reusable tumbler or glass cup for clients.
Want to infuse your life with action? Try these five tools.
---
The Power of Tactile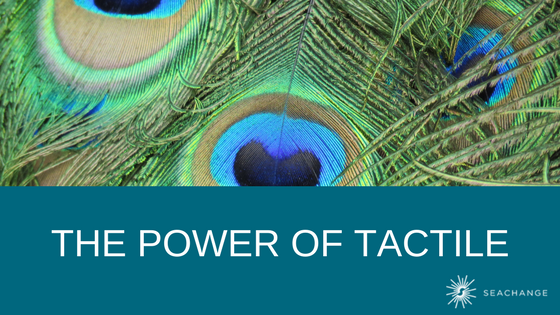 It's been tossed around for years: the idea that "print is dead." Yet the data shows that print still makes a huge impact on consumers. Consider these quick stats:
53% of consumers purchase items from a catalog every year.1
73% of U.S. consumers said they prefer to receive direct mail from brands because they can read it at their convenience.2
68% of companies surveyed by the Digital Marketing Association called catalogs "effective" or "highly effective" in driving sales.3 Some companies that cut their printed catalogs brought them back later.
So the truth may be instead that "print has evolved." Many successful companies have found that print plays an essential part in a strategic, omni-channel approach. That's due in part to how we interact with different media. For example, most consumers are in a different mindset when they see an email pop up, than when they relax at the end of the day with a stack of mail, reaching them at the right time — and in the right mood — is essential.
Yet it's not just about timing and convenience. The very nature of print actually affects our minds in a different way. To fully understand this, we need to learn more about interactions that involve touch, which are called haptics. Neuroscientist David Eagleman examines (or explains perhaps?) the science behind haptics and the other senses in his TED Talk, Can We Create New Senses for Humans?
At a higher level, Dr. Eagleman notes, "In humans, touch represents a powerful form of nonverbal communication". Our sense of touch plays a fundamental role in daily life, from learning about objects to communicating with other people." 4
His work has shown that touch can lead to stronger, better-lasting memories than other senses such as sight and sound.4 And for companies trying to build brand recognition, that's essential. Touch has actually been shown to increase the perceived value of brands and products.4
Once you've convinced your team of print's importance, our team can help you get inspired for next steps. Together, let's explore paper stocks, tactile varnishes, unique folds and other great ways to delight your audience through effective use of haptics.
1 PwC Total Retail Survey 2015: Retailers and the Age of Disruption. Available at: http://www.pwc.com/sg/en/publications/assets/total-retail-2015.pdf. Accessed January 25, 2017.
2 Epsilon. 6 Direct Mail Stats That Can't Be Ignored. Available at: https://www.epsilon.com/a-brand-new-view/region/6-direct-mail-stats-that-cant-be-ignored/. Accessed January 25, 2017.
3 Digital Marketing Association. Statistical Fact Book 2015. Available at: http://www.pfl.com/images/Statistical-Fact-Book-2015.pdf. Accessed January 25, 2016.
4 Sappi. The Neuroscience of Touch. Available at: https://www.sappi.com/neuroscience-touch. Accessed January 25, 2017.
---
Capturing Data That Can Drive Better Business Decisions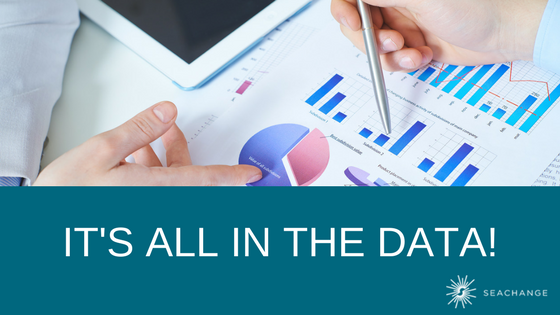 Getting the right message in front of the right audience, at the right time can help drive a desired consumer behavior and contrary to what you might think, doing this successfully is not about capturing more data; it's about capturing data that can drive better business decisions. In an InfoTrends study[1] it was reported that over 61% of the surveyed 800+ enterprises used personalized and segmented communications today. Today's marketers understand that data is the cornerstone of any effective marketing strategy—it is essential for customer acquisition, retention, and increasing the overall customer relationship.
According to an Experian study[2] of more than 1,400 customer service, data, marketing, sales, and technology professionals, the most critical reasons for maintaining a high-quality data strategy include: increased marketing efficiency, enhanced customer satisfaction, enabling better business decisions, and generated cost savings. 84% of respondents acknowledged that data was an integral part of forming a business strategy, but they were faced with a high degree of inaccurate data that was hindering their ability to execute effectively. The primary issues that marketers were encountering included incomplete/missing data (60%), outdated information (54%), duplicate data (51%), inconsistent data (37%), and typos (30%). Given these challenges, data management was top of mind for these marketing executives. Over the next year, the survey respondents expected to take on a number of data management projects to improve data quality, including cleansing (37%), integration (37%), migration (31%), and enrichment (31%).
As we move into 2017 and beyond, data-driven marketing is going to get bigger, better, and more integrated into the consumer experience. Meeting the data challenge means implementing the right resources and partnerships to understand the data that you have and uncovering the data that will drive more results for your marketing efforts. In its recent survey[3] of over 250 marketing executives and 50 agency executives, InfoTrends sought to undercover how data is being used to better sales and marketing results. The respondents highlighted the following areas of importance:
Understanding the path to purchase is critical. You need to understand which channels work best for various customer types, and the path of navigation must be monitored throughout every campaign.
Messaging needs to be consistent and personalized across all channels.
Marketers are spending their money on an array of data-related services, including data quality, data enrichment, data mining, analytics, and predictive modeling.
While marketers want to take a data-driven approach with their customers, many are still focusing on data collection and lagging behind when it comes to making data actionable. A significant number of marketers still lack the internal experience—either at the functional or operational level—to be successful. More than 70% of the marketers that InfoTrends surveyed highlighted challenges related to quality data, disparate data sources, and inadequate skills/technology/expertise. Key areas where they needed to enhance capabilities included social media strategy development, mobile strategy development, optimizing purchasing behavior on ad exchanges and search engines, tracking direct mail campaigns, aggregating data from multiple sources, keeping data clean, and creating a personalized and relevant customer experience. Content must then be delivered via multiple channels that may include print as well as a variety of digital communications. Then finally, the customer responses need to be measured and fed back into the database to serve as input for subsequent cycles of communications within the next interaction of the customer's journey.
Lastly, another recently published InfoTrends study[4] found that the top three challenges for marketing implementing customer communication solutions were data management/data access, building a business case for increased personalization of customer communication and defining the specifications for RFP/RFQs when seeking outside providers to assist with customer communications. While it might be "all in the data," marketing executives are acknowledging these data challenges and making strides to overcome them to create a better customer experience.
Which is your most pressing concern and why?
[1] Micro to Mega: Trends in Business Communications. InfoTrends, December 2015 [2] 2015 Experian Data Quality Study [3] Lead with Data: Follow with Print. InfoTrends, December 2016 [4] Customer Engagement Technologies State of the Market 2016, InfoTrends 2016
---
Barbecues and Bonuses and Bowling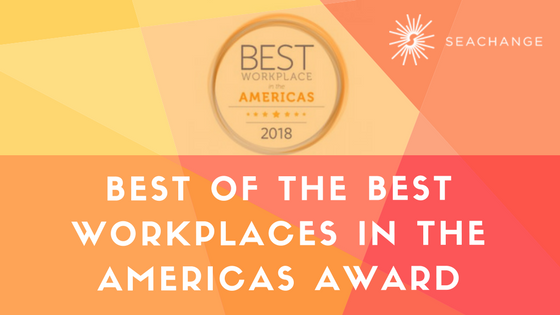 For the second year in a row, SeaChange Print Innovations has been named to the Printing Industry of America's Best Workplaces in the Americas. The award recognizes companies that embrace "the most sought-after qualities for today's workforce: communication and culture, employee resources and benefits, and safety and environment."
By demonstrating a significant commitment to its employees, SeaChange was given the special designation of Best of the Best Workplaces, making it the only Minnesota-based printing company to earn this distinction in 2018. In making their selection, the judges noted about SeaChange, "You are breaking out of the mold of manufacturing companies and that is very outstanding."
Wendi Breuer, president and CEO, is grateful for the recognition because "Creating a place where people love to work and an environment where people naturally work together has always been our goal. It is such an honor for our organization to be recognized for our great culture."
From a welcoming, collaborative atmosphere to fun companywide events like bowling and picnics, employees throughout the company were quick to explain why the award fits SeaChange. "Our workplace is like one big extended family," commented Al Sandford, a press operator. "Everyone knows everyone including spouses and kids."
SeaChange emphasizes a safe work environment with monthly safety meetings and Good Catch and Core Catch awards recognizing those committed to quality and SeaChange's core values. It also has Tuesday Trainings that focus on topics such as writing effective e-mails and wellness events including participating in the Frosty Challenge. As part of its investment in and appreciation for both employees and the community, SeaChange also gives every employee the opportunity to volunteer at the Crisis Nursery while being paid.
Along with all these benefits, however, digital press operator Donette Deuermeyer notes that the people at SeaChange are what make the company stand out. "The positive environment and communication is why employees are happy to come to work."
---
Wendi Earns 2018 Enterprising Women of the Year Award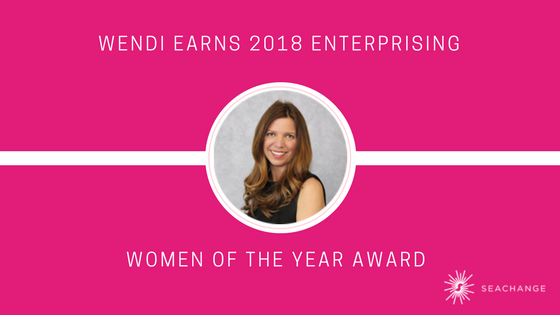 Each year Enterprising Women magazine honors the world's top women entrepreneurs with its Enterprising Women of the Year Awards. Considered one of the most prestigious recognition programs for women business owners, it highlights those who demonstrate that they have fast-growth businesses, mentor or actively support other women and girls involved in entrepreneurship, and stand out as leaders in their communities. We can imagine no better fit than our very own President and CEO Wendi Breuer.
Upon hearing she had received the award, Wendi was quick to note the team effort at SeaChange that makes personal and company success possible. "I'm truly grateful to be honored among such a wonderful group of women who are making a difference in their business and their communities," she said. "Together, we're demonstrating the strength and diversity of ideas that come from making women a key part of businesses."
---
Unwrapping the Benefits of Digital Packaging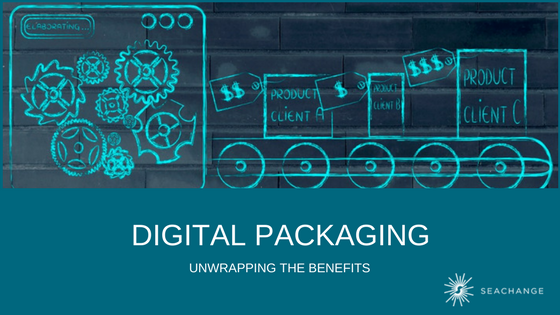 Did you know that digital printing offers flexibility in marketing, brand security, and authenticity? It can also help you reduce waste while saving time and money. Digital packaging and labels make it easier for you to fine-tune your efforts by running smaller quantities for test marketing, regional products, and seasonal offerings. Digital production eliminates expensive setup costs as well as long lead times for short-run versions or one-to-one personalized packages. Furthermore, marketers can to use packaging to structure interactive dialogues and communities with end consumers.

With today's capabilities in print packaging manufacturing, brand owners are finally at the helm of possibilities. Technologies that have been transforming the traditional print media space for years are finally becoming options for marketers and brand owners of physical packaged products. This is bigger than just the marketing promotions associated with the product though, thanks to the growing list of options, brand owners are able to integrate package design into the entire marketing campaign, creating an omni-channel approach to product promotions. Today's digital packaging capabilities are facilitating personalization, short runs, and higher security, all while eliminating costs and waste and reducing time to market, which ultimately creates higher returns at every touch.

Research shows that today's brand owners want more customization, personalization, and versioning for their product packaging. This isn't just a preference—it is quickly becoming an expectation for consumers and sellers alike. Surveyed brand owners most strongly agreed that customized/personalized packaging improved product sales, that interactivity on product packaging is essential to a customer's experience, and that the pressure is on from retailers to deliver these versioned product packages.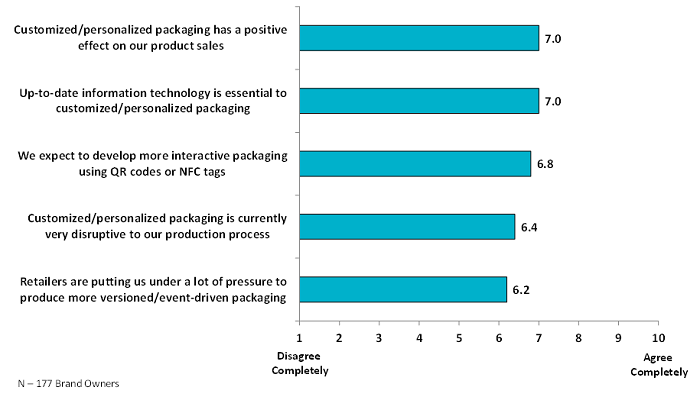 The benefits of digital printing can become a strong asset to you, as brand owners and marketers, in terms of strategy and production. Regardless of your industry, today's technologies make it easier than ever for you to make the most of your packaging. A broad range of markets – Healthcare and Pharmaceuticals, Retail, Hospitality, Manufacturing, and Technology to name a few – are capitalizing on the flexibility of digital printing to improve their marketing efforts, increase brand security/authenticity, reduce waste, and realize time/money savings.

Whether you are a product manager, marketing executive, package designer, or other influencer, odds are good that you're facing enormous pressure from your channels (e.g., retailers, distributors, and wholesalers) to reduce costs, comply with regulations, and increase speed to market. Although the challenges you're facing are surely not news, but did you realize that digital printing may be an option for you? In addition to enabling smaller run lengths, digital production eliminates expensive setup costs as well as long lead times for short-run versions or one-to-one personalization. Furthermore, marketers can use packaging, direct mail, signage, and displays to structure interactive dialogues and communities with consumers. Today's marketers are integrating quick response (QR) codes, augmented reality, and near-field communication (NFC) tags into their product packaging to promote brand recognition, increase value-add, and improve customer interaction.

Here's a quick list of some of the benefits that digital printing offers:
Flexibility in marketing and interactivity
Customization for target markets or events
Personalization and versioning (Note that this personalization goes far beyond the traditional "Hey Sally, buy me!" messaging. This is also about specialized jobs that involve consecutive numbering, bar coding, multiple languages, and variable text that cannot be completed on conventional printing presses.)
Package testing: New products, sample products, and package designs
Loyalty programs, games, and coupons
Supply Chain Optimization (Think cutting costs, shrinking cycle times, and minimizing errors/defects with just-in-time production and reduced waste.)
More SKUs
Sustainability (Whether you call it eco-friendly, natural, or biodegradable, consumers are continuing to put on the pressure for businesses in all industries to "go green"!)

The bottom line is that the market is undergoing a fundamental transformation relative to effective and efficient production of packaging. Innovations in digitally printed packaging for better customer engagement and reduced obsolesce are the driving force behind this increased adoption. How can you use digital print to improve your product packaging and promotions? The options are virtually endless!

The Future of Digital Packaging Workflows, InfoTrends 2015
---
Serving Children in Need, One Meal at a Time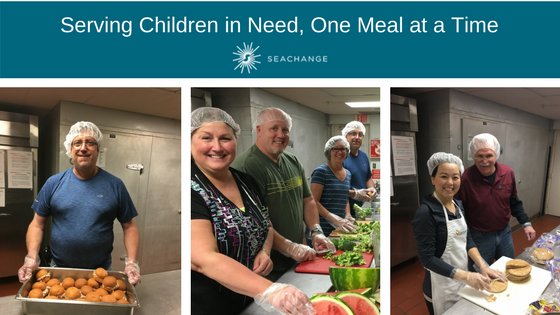 The presses might not stop at SeaChange, but our team takes time out regularly to support Greater Minneapolis Crisis Nursery in its mission to end child abuse and neglect and to create strong, healthy families.

Crisis Nursery supports families 24 hours a day, 365 days a year, and we help on a regular basis by sponsoring and serving meals through the Cook for Kids program. In teams of six, we prepare food and then have fun sharing a meal with children and staff. It's a heartwarming experience that includes laughs, stories and some much-needed cuddles.

Because we care so deeply about giving back to the community, we offer paid volunteer time for staff to participate. And so far the program has been a great success. "Every single person that has gone has been touched by the program and the children – including me," notes Missy Winge, our HR director.

Along with the Cook for Kids program, we've also helped Crisis Nursery with donations for the center and families in need. Wondering how you can help? Learn more about this great organization.


---
Go Omni-Channel: The Power of Kits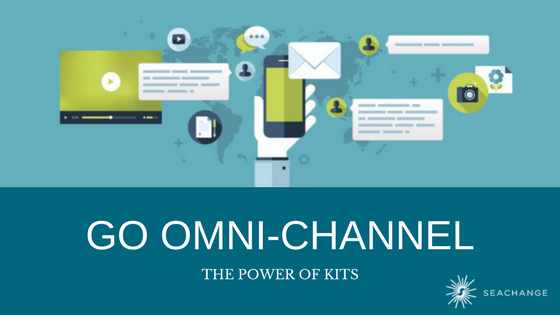 Think for a moment about how we learn the latest news. Some of us have 24-hour cable news channels on whenever we're home. Others subscribe to daily newspapers or to news magazines. Some people just skim social media for headlines. Each of us has a different approach — and most of us probably use a hybrid.

How we consume marketing messages varies too. This breadth of media preferences shows us that a single channel can't appeal to everyone. And companies that are tying all their marketing efforts to a single medium, such as online ads or emails, are missing the mark.

Savvy companies instead realize the importance of an omni-channel strategy. Sixty-two percent currently have or plan to implement one, and nearly half are integrating consumer data with other data, media and marketing programs.1

An omni-channel strategy can include postcards, dimensional mailers, emails, online ads and more. And they can all drive consumers to personalized landing pages (PURLs) with specially tailored messaging.

Yet when asked what they include in omni-channel approaches, many companies listed digital first: websites, email, mobile and social media.1 Only a third said they use direct mail.1

According to the Data & Marketing Association, this can be a big miss. "It's direct mail that anchors the campaign and drives the support tactics that can boost the overall effectiveness of an omni-channel effort."2

Why is print so important? It engages more senses than digital media, making it more memorable.3 It helps build credibility. And it makes your company appear more personable, reminding consumers that there are real people behind your business.4

Wondering how an omni-channel approach can work for your company? We've helped a wide range of clients deliver effective omni-channel campaigns, and we'd be happy to share what we've discovered. Contact us to learn more and discuss your next project.

1 Neustar. Omni-Channel Marketing Optimization Infographic. Available at: https://www.neustar.biz/resources/infographics/optimize-omnichannel-marketing-infographic.
2 Data & Marketing Association. Direct Mail Statistics. Available at: https://thedma.org/marketing-insights/marketing-statistics/direct-mail-statistics/.
3 Sappi. The Neuroscience of Touch. Available at: https://www.sappi.com/neuroscience-touch.
4 Entrepreneur. The Surprising Power of Print Marketing to Leverage Your Ecommerce Site. Available at: https://www.entrepreneur.com/article/242750.
---
Building Trust with Sensitive Data

Chances are you've heard of at least one big data breach in the news this year. From credit card issuers to retail stores and utilities, companies across the U.S. and abroad have a big responsibility to keep consumers' data protected.

Yet it's not just financial data that poses a risk. Healthcare organizations have strict regulations and requirements for protecting and securing sensitive information too. And because we work closely with healthcare and other high-risk industries, we're continually taking steps to ensure the data we touch stays safe. We recently took another leap forward by earning Certified status from the Health Information Trust (HITRUST) Alliance.

An overarching security framework, HITRUST CSF incorporates and leverages federal (HIPAA and HITECH), state, third-party (PCI and COBIT), and other government agency (NIST, FTC, and CMS) regulations, standards and frameworks.

That's a lot of acronyms. But they all mean one thing: You and your target audience can rest assured we're working hard to keep your data safe.

View the full July 31st 2017 press release here.

Want to learn more about our security procedures? Drop a note to our Chief Technology Officer, Arin Brown.
---
Using Personalization Where It Matters Most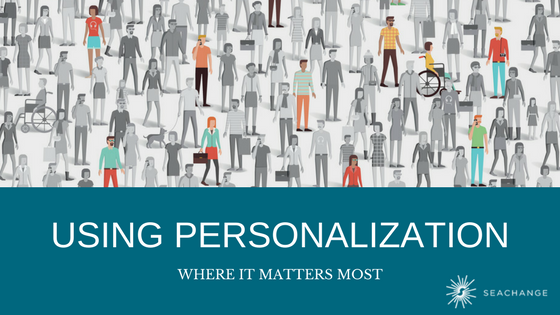 As consumers have learned to simply unsubscribe from emails — and do so with increasing frequency — marketers are turning to personalization as one way to get their attention. And they've found it works. Open rates increase 64% when emails are customized.1 That trend toward personalization has grown in direct mail as well.
It's a simple idea: Seeing our name in print or in a subject line makes us feel acknowledged and even a bit special. It's no different than the joy we felt as children searching for our names on gift shop tchotchkes.
Yet adding individuals' names isn't the only way marketers can tailor their approach. While about 40% of companies stick to the basics like name, location and demographics, opportunities exist to personalize based on lifestyle details, family details, social profiles, occupations and more.2
The next time you're working on an email or direct mail campaign, make the most of consumer data. Consider these ideas:
Vary messaging — If your audience is split between single people and families, make some simple variations in copy. A simple message of "you and your family" can appeal to the latter; removing it elsewhere can avoid alienating others.
Consider photography — Some companies have seen success by segmenting a direct mail piece to women and men by swapping out the photo. Tailoring photography by age or hobby can be effective as well.
Think geographically — If you're sending a mailer in winter, think about how your photography could reflect what your recipients are currently experiencing. Pictures of kids having a snowball fight make sense in Minnesota. In south Texas, it's a different story.
Tailor your offers — Look at what your past customers have purchased. If you own an outdoor gear shop, for example, you could send people who routinely buy climbing gear different messages and offers than those who prefer fishing supplies.
The good news is variable printing has made personalization easier and more affordable than ever before. Learn how we've made it happen on a grand scale for a market leader of personalized books.
Wondering how you could bring personalization to your next project? Ask us for ideas.
1 VB Insight. Marketing Personalization: Maximizing Relevance and Revenue. Available at: http://insight.venturebeat.com/report/marketing-personalization-maximizing-relevance-and-revenue.
2 VB Insight. Identity and Marketing: Capturing, Unifying and Using Customer Data to Drive Revenue Growth. Available at: http://insight.venturebeat.com/report/customer-identity-marketing-capturing-storing-and-enriching-right-data.
---
Making Data Security a Priority: SOC2 Audit

Direct mail and online campaigns don't just involve great design, smart copywriting and beautiful execution. They also require a lot of data. And keeping that data secure is essential – especially if you're dealing with confidential, health and financial data.
Since launching SeaChange, we've made protecting your data a priority, and we recently received a Service Organization Control (SOC) 2 attestation of compliance report. SOC2 reports assure you that we use secure practices and suitably designed controls to maintain compliance and security.
In addition to the SOC2 audit, we've taken steps including:
• Having an extremely strong Information Security Program based on ISO 27001/2 and NIST CSF (Cyber Security Framework)
• Earning HITRUST certification
• Using strong encryption for both data at rest and data in transit
• Using two-factor authentication
• Building strong physical access controls
• Cleansing files at the end of their data lifecycle using secure DoD level data wiping
What does it all mean? It means you and your target audience can rest assured we're doing everything we can to keep your data safe.
If you're interested in the details, Arin Brown, our chief technology officer, would be happy to talk tech with you.
---
Women in Business Awards Recognize Wendi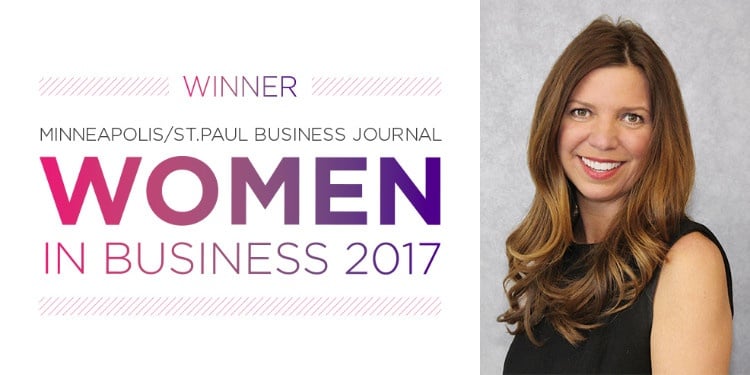 Each year the Minneapolis/St. Paul Business Journal recognizes women who have truly excelled — not only in their professional lives but also as leaders and role models — with its Women in Business awards. This year, we're excited to announce that the committee recognized what we've long known: Our President and CEO Wendi Breuer is pretty amazing.
Wendi has been a leader in Minnesota and beyond since long before our 2014 launch. And if you've had the opportunity to work with her, you know her naturally inquisitive disposition, leadership style and passion for the changing print industry have helped make SeaChange unique.
One of our clients, Kasey Hatzung from Fusion Hill, explained it this way: "Wendi's energy, beauty and laughter abound. Her business savvy is 'Shark Tank' worthy. But it's her kindness that is magnetic. While she juggles the world in one hand, she has the enviable ability to be present — giving time, respect and laser focus to each person she interacts with. Always putting others first, Wendi is quick to give credit where it's due and steers clear of the limelight."
Of course, Wendi's energetic and inspiring nature extends far beyond our office walls. You may also see her volunteering for organizations including Minneapolis Crisis Nursery, Toys for Tots, PIM, Girl Scouts and her children's school. She also mentors young women whenever she has the chance and is a board member of NAWBO.
---
SeaChange becomes certified member of PIM Great Printer Environmental Initiative and celebrates with a little sweetness of chocolate from Mother Earth

Printing Industry Midwest (PIM) has certified SeaChange Print Innovations as a member of its Great Printer Environmental Initiative. To participate, printers must demonstrate a commitment to minimizing their impact on human health and the environment while producing quality printed products. Great Printers like SeaChange go beyond what is required by government agencies in environmental, health and safety (EHS) compliance.
In addition to minimizing waste, recycling waste, maximizing energy efficiency, and creating a healthier and safer work environment, SeaChange continually pursues EHS improvements. Recently, SeaChange expanded its rooftop solar panel array, doubling its renewable source of energy to 60 kWh per year. The recent installation of LED High Bay lighting with flood-grade LED IBG fixtures in the packaging and finishing area of production has improved lighting by 60 percent and increased efficiency by 12 percent. We are always searching for solutions to minimize our carbon footprint and become more efficient and sustainable.
SeaChange is celebrating this latest certification by sharing a special Earth Day campaign titled EARTH: The Chocolate Maker. With so many reasons to be grateful for Mother Earth, one of SeaChange's favorites is her gift of chocolate. So we are sending clients, employees and partners an environmentally friendly package containing a Dagabo Organic Chocolate Bar with a reminder to enjoy the moment and celebrate Earth Day. Dagoba Organic Chocolate chooses to work with the Rainforest Alliance because, like SeaChange, it values environmental protection, social equity and economic viability for a better planet.
---
Welcome SeaChange New Director of Human Resources
Malissa "Missy" Winge has joined the SeaChange Team as the Director of Human Resources. Her 15 plus years of human resources experience includes developing HR processes and policies, compliance, employee relations, performance management, recruiting, benefits, compensation, safety, training and Affirmative Action. This extensive background brings expertise to SeaChange's internal procedures and policies designed to meet our clients' security requirements.
Missy's HR career has focused on the printing industry. While some HR managers prefer to stay in the office area, Missy loves working with employees on the manufacturing floor. Her desire to understand the production process, equipment and coworker's needs gives her insight on how to best meet company goals and values.
As an avid Minnesota Wild hockey fan, Missy brings the same enthusiasm and drive to the printing industry. She breaks seasons into periods, understands breakaway opportunities and the importance of passing. She is a defender doing the right thing and avoiding the penalty box. As one of the coaches she believes everyone is an important player on their team, fostering a culture of respect and positivity.
Outside of the office Missy's time is spent centered mostly around her husband and two sons. They love traveling, fine dining, hockey and the great outdoors - mostly fishing - together! Her creative side is satisfied by time spent with friends crafting and baking her "Sweet Malissa's" Cupcakes
---
Whistle While We Work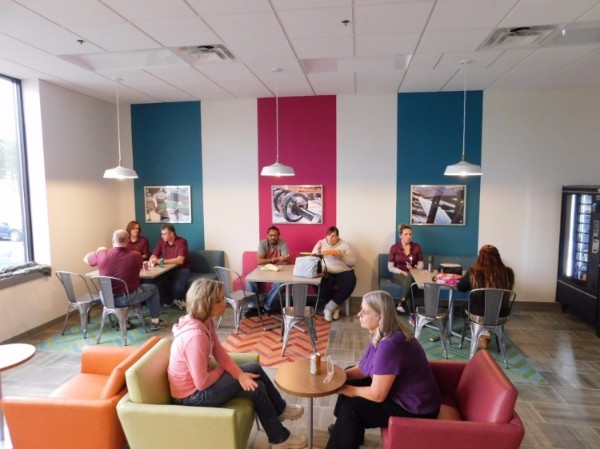 Sure, whistling may be an exaggeration. But if you visit us, you'll see smiles from the front desk to the printing floor. That's because SeaChange is a company that values every employee's ideas, shares in our successes and takes incredible pride in our work. It has been part of our culture from day one, and is a major reason we were recently recognized as one of the 2016 Best Workplaces in the Americas by Printing Industries of America.
We're grateful for the recognition, but not just for ourselves. We're excited because we know engaged employees care about hitting deadlines, finding solutions that cut costs and creating an environment where everyone feels welcome and inspired. We invite you to visit and share in our culture.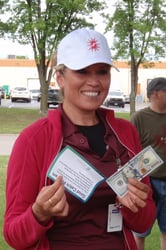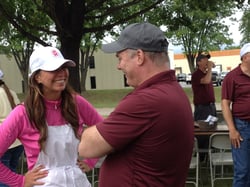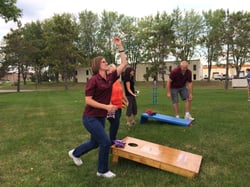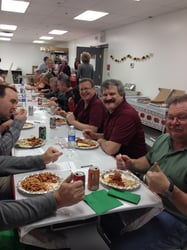 ---
SeaChange wins Achieve Award for Innovation in Technology

Minnesota women who are business founders, owners or partners were recognized for their achievements by National Association of Women Business Owners (NAWBO-MN) on Wednesday, October 26th. The Achieve award honors these women's contributions to the local and national economy as well as their support of women-owned businesses.
SeaChange is very proud to win the Achieve! Award for Innovation in Technology. With a mission to redefine print, SeaChange has embraced technology to transform its customer's print needs. "Technology is the cornerstone of our strategic vision in helping our customer's grow their business," says Wendi Breuer, SeaChange CEO. "I am so humbled and honored to be among these women who are such true innovators in our community."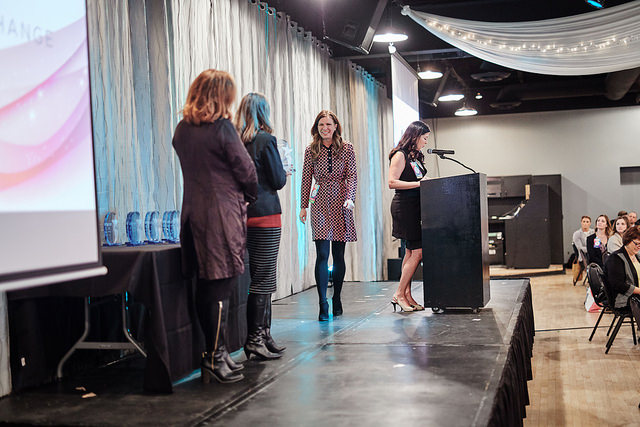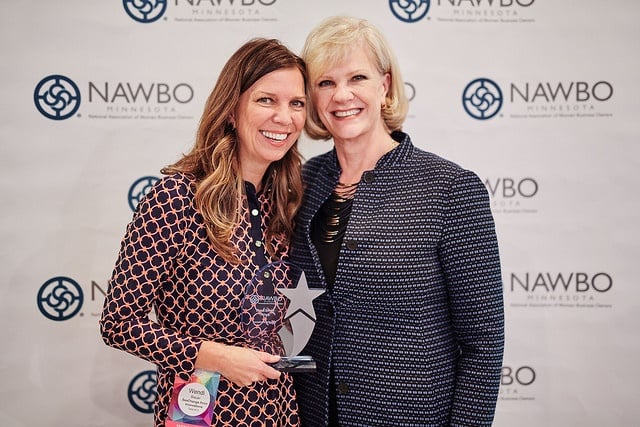 ---
SeaChange Brings You Strong & Stocky!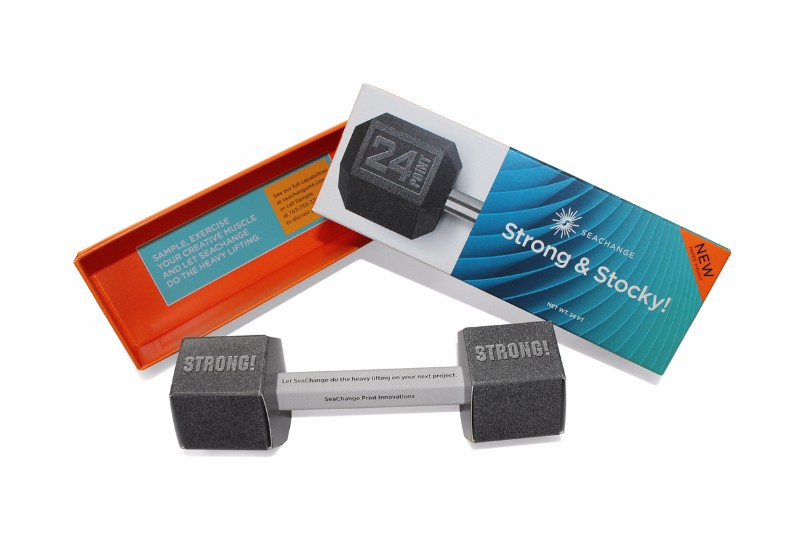 With our new digital printing capabilities for packaging, who needs small and wimpy? Our 24pt-paperboard capable digital press will help your new product launches or personalized packaging campaigns get in shape, so let's get moving!
SeaChange now has the region's only Xerox® iGen®4 digital press with the ability to handle 24-point paper weights combined with the largest sheet sizes (14.33"x26"). We've bulked up our ability to support your next structural design, packaging or kitting project.
---
SeaChange Invests for the Future in Digital Printing
SeaChange Print Innovations would like to welcome to its arsenal of digital print capabilities, the Xerox iGen4. A variable printing dynamo. Sure, variable digital printing is nothing new, but consider the iGen4's rare ability to personalize or print sku intensive packaging. Yes, packaging up to 24pt paperboard. Replacing traditional high volume package printing with the ability to run itemized, personalized or customized pieces in short run, fast turn scenarios is the way of the future.
Major Advantages of the new SeaChange iGen4 with the heavy weight kit include:
Faster Print Lead Times
100% Variable Data - Consecutive Numbering, Personalization
Short Runs, No MOQ's
Low Volume Consumer Testing Programs, Club Store Testing
In recently published data by InfoTrends, forecast data projects that digitally produced packaging will demonstrate a compound annual growth rate (CAGR) of 20.7% between 2014 and 2019. SeaChange is excited to be invested in a movement that will allow its customers to explore the newest in digital printing and creative ways to market and track their products in the future.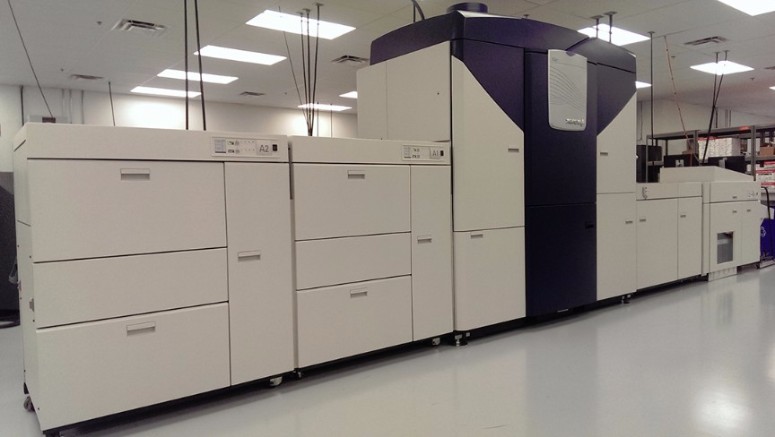 ---
We're WBE Certified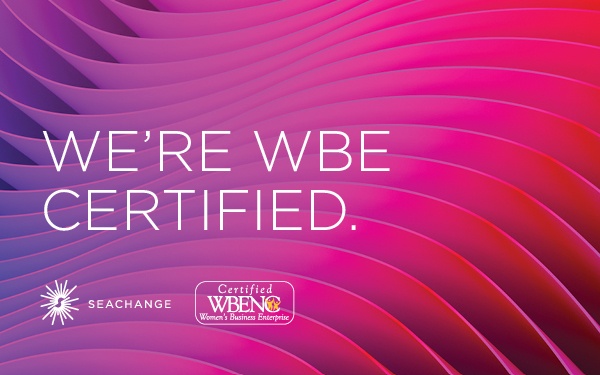 If you've worked with our team already, you know it includes a lot of great women – from leadership, to sales and in operations. Now we've made our emphasis on diversity official by earning Women's Business Enterprise (WBE) certification.
This national certification – overseen by the Women's Business Enterprise National Council (WBENC) – confirms that we're at least 51 percent owned, controlled and managed by women.
Why is that so important? Well, we certainly believe creative approaches come from teams with a wide range of experiences and perspectives. Yet this move can also help your organization meets its diversity sourcing requirements – and hitting that goal for print suppliers certainly hasn't been easy.
While having our WBE certification may help us get our name on your approved supplier list, we know that's not why projects are awarded. If you haven't worked with us yet, try us for our proactive approach, competitive pricing and remarkably fast turnarounds. In addition to being women-owned and operated, these are the qualities that truly make SeaChange unique.
---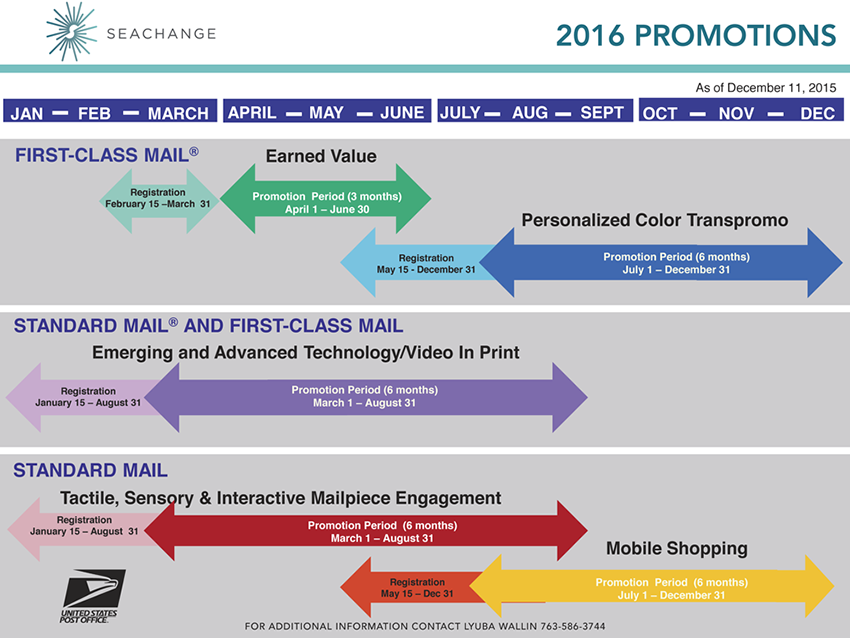 USPS Direct Mail Promotions- 5 different ways to save $ on postage.
The Postal Regulatory Commission approved the five (5) proposed USPS Mailing Promotions for calendar year 2016. These promotions are designed to create excitement about mail, slow the decline of First-Class mail and provide multiple opportunities for mailers to enhance the value of their direct mail. Last but not least, mailers will receive a 2% upfront discount on qualifying mailpieces, with the exception of Earned Value Reply Mail Promotion that offers either a $0.02 or $0.03 rebate credit on qualifying mailpieces.
Earned Value Reply Mail Promotion.
This promotion is designed for those mailers that include Business Reply Envelope or Courtesy Reply Envelope in their direct mail marketing materials. Mailers who register their MID information and use eligible Intelligent Mail® barcodes (IMbs) on their reply pieces will receive a postage credit for each mailpiece that is returned during the promotion period.
Personalized Color Transpromo Promotion.
The 2016 Personalized Color Transpromo Promotion is intended to encourage producers of bills and statements to produce and mail statements that create a greater connection and response from consumers by using personalized color messaging. This promotion will provide an upfront postage discount to mailers who use personalized dynamic/ variable color print for transpromotional marketing and consumer messages on their bills and statements.
Emerging and Advanced Technology/Video in Print Promotion.
The USPS continues to encourage mailers to integrate direct mail with technology, providing an interactive experience for customers. To participate in the promotion, the mailpiece must incorporate any of the following technologies, including: standard NFC technology, Video in Print (ViP), Beacon technology or "enhanced" augmented reality. This year's promotion includes an option for A/B testing.
Tactile, Sensory & Interactive Mailpiece Engagement Promotion.
This promotion encourages mailers to adopt advanced techniques on their mailpieces in order to drive customer engagement and response rates. There are three featured categories in this promotion:
Specialty inks
Specialty paper
· Interactive elements on envelope and/or mailpiece content
Mobile Shopping Promotion.
Mailers using technology platforms such as Quick Response (QR) Code, Snap Tags, Watermarks and other advanced technologies meet the criteria for this promotional discount. The goal is to lead the consumer from the mailpiece to a complete mobile optimized website. This year's promotion adds social media opportunities through "Buy It Now" features highlighted to support shopping during social media activities.
Timing of each promotion is listed in the promotions calendar. To learn more about 2016 USPS promotions, please contact Lyuba Wallin at 763-586-3744 or lyubaw@seachangemn.com.
---
There's No Glass Ceiling at SeaChange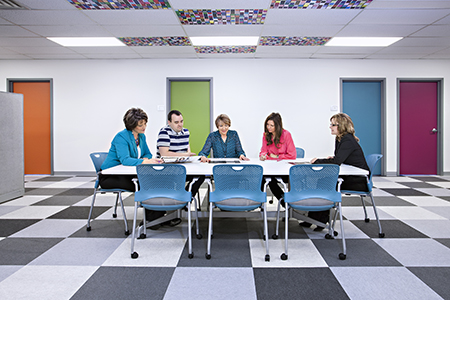 In fact, we're majority women-owned!
SeaChange means transformation, and we're shaking up the print industry by becoming one of the few female-owned and managed companies in our industry.
While we've had women in leadership roles since our launch, this latest move is another example of how we're evolving. Because we know that creative approaches come from teams with a wide range of experiences and perspectives. And we also know that collaborating with a women-owned business can help your company increase your diversity spend.
When you're considering SeaChange for your next project, we hope you'll keep our latest transformation in mind. Of course, we trust you'll consider our proactive approach, competitive pricing and remarkably fast turn-arounds too.
Stay tuned for news about WBENC certification. We've already started the process.
---
An Entirely New Ball Game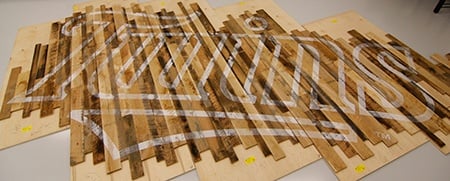 Summer may be winding down, but there is still plenty of time to head to Target Field to catch the Minnesota Twins in action. While you're there you can see yet another way SeaChange has been working in an innovative way.
SeaChange recently printed a large piece of artwork as part of the ceiling of the 1st level of the Twins Stadium, near the left field fence. This 18' by 30' sign was printed on barn boards with a plywood backer using our FujiFilm Aquity Advanced High Speed Press. Our large format UV printing process allows us to create a final product that is durable in all elements. UV lamps are utilized by energizing the ink in the curing process. The final sign was printed using white ink, generally unique to the process.
Planning this project was like creating a large format puzzle, knowing the lines of the logo must line up perfectly once in place at the stadium. We hope you'll have the chance see this sign for yourself. It's just one more example of our how our SeaChange team creatively accommodates our client's needs, regardless of the challenge.
Go Twins!
---
Like Night To Day.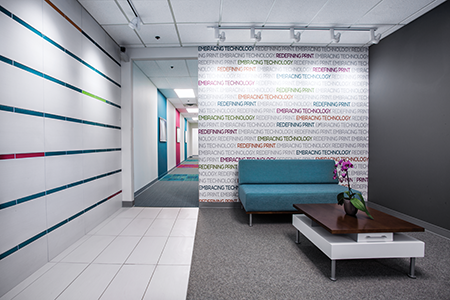 Throughout Shakespeare's A Midsummer Night's Dream, the characters are transformed in personality and perspective. Transformation is influenced by environment, and here at SeaChange our very own space has undergone an enormous change. And, the newfound joy, energy and productivity is evident for all SeaChangers working in their new stylish and collaborative surroundings. Many visitors have commented on its "agency type feel".
Our renovation started with a new roof last year, as well as a new air conditioning system, construction of a new humidity controlled digital center and production floor enhancements to support our new presses. In the Fall of 2014, we began remodeling the office areas, as well as a full "facelift" to the area most important in welcoming you – our front lobby. Rounding out this amazing project was the completion of our state-of-the-art customer innovation lounge, a contemporary and inspirational setting for our clients. In addition, we created a hip new employee lunch area, and adorned our hallways with art prints (created on our own large format equipment) of photos taken with an abstract perspective of our capabilities.
SeaChange, similar to A Midsummer Night's Dream's theme - is built from and around transformation. Come in to see it for yourself – we look forward to hosting you.

---
2015 NPF Highlights.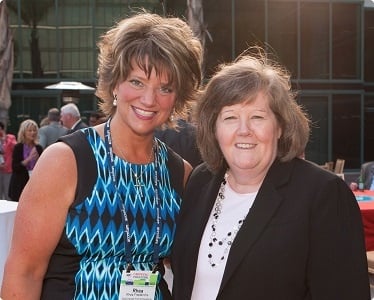 Postmaster General, Megan Brennan - USPS, and Rhea Friederichs, Director of Business Development, SeaChange Print Innovations
This year's National Postal Forum (NPF) was a high-energy, event-filled event with close to 3,000 participants from across the country. Held in Anaheim, the sunshine was a perfect complement to the optimistic, confident keynote delivered by our new Postmaster Megan Brennan, the 74th (and first female) PMG/CEO of the USPS. Brennan got everyone's attention by proclaiming, "Innovation is often considered "disruptive. I think sometimes we need to be pushed by disruption and learn to harness it. In other cases, we need to be the disruptors."
Brennan went on to say there are three key innovation platforms that will help integrate mail into the digital lives of consumers. "The first is to bridge the physical and the digital," she explained. One of the examples shared was Real Mail Notification, which provides a daily digital notification of mail to be delivered to a customer. In the same way we check content on social and news apps and e-mails and notifications every day, we will also be able to check to see what's arriving in our physical mailbox.
The second key innovation platform relates to the age of transparency. "Imagine 150 million-plus people getting a daily digital notification that allows them to interact immediately with what's in their physical mailbox," Brennan explained. "So, when you look at the notifications section of your mobile device next year, you'll probably see your meetings for the day, the weather forecast, a news item or two, and when your mail will be delivered."
The third key innovation platform had to do with harnessing the power of hyper-personalized mail. She went on to share "companies are developing incredibly robust analytics and behavioral insights about their customers, and they're using those insights to generate digital content that speaks directly to the individual."
Brennan was refreshingly relevant as leader of the USPS. "People and businesses are communicating and marketing in ways that are evolving very quickly. We've become a device oriented-culture. Laptops, tablets, smartphones and now even watches are making life a digital and mobile experience. And, when we look to the future, we see a world that is increasingly interactive, connected – and frankly, "smart." The good news is that our industry has a big role to play in that digital future. That's what we want to talk about over the next few days."
Brennan concluded by noting that, although the role of mail is changing, "we take a lot of pride in delivery for the American public." She thanked NPF attendees for being customers of the Postal Service and for our partnership in driving growth in the industry.
The workshops and educational events certainly followed the theme of a digital future. Sessions on data analytics, ROI, print innovations, multi-channel marketing, and of course, all things postal were available and well-attended over the four days of the successful 2015 NPF.
---
Ink On Paper: Understanding Print Transformation.
Join SeaChange Print Innovations and Xerox at this year's National Postal Forum in Anaheim, CA. In their workshop "Ink On Paper: Understanding Print Transformation," Rhea Friederichs, Director of Business Development - SeaChange and Shelley Sweeney, VP Direct Marketing - Xerox will share how advanced printing techniques are defining success and creating competitive advantages for many marketers. We'll discuss how to "raise the bar" through innovation, strategy and creativity.
This session will be held Period 10 on Monday, May 18 at 4:00 - 5:00 PM.

---
Up On The Roof.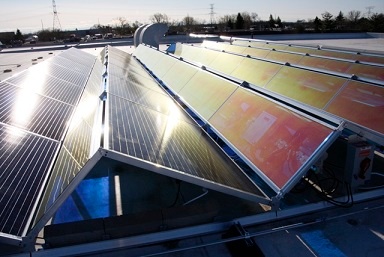 Our ongoing environmental sustainability program has – just in time for Earth Day – reached a major milestone with the completion of the installation of 1,868 square feet of solar panels on our roof. These panels will generate 28,600 KWh per year – providing a non-polluting renewable source of electricity.
SeaChange continues to bring innovative solutions to our business – and puts us in the forefront within our industry in utilizing renewable energy. And while these panels will not supply all of the electricity our facility requires for the production of our clients' printing and marketing needs, it will reduce our overall annual consumption. CO2 gases will be reduced by 24 tons annually.
Using alternative energy is just one more choice SeaChange has made to bring innovative solutions to our business – and the environment. It's a big deal – to us, and most importantly – to you.
---
All That Glitters...
The latest innovation in digital printing is being installed at SeaChange. Our Customers now have a creative, competitive advantage not previously available in the printing industry - a digital color press with metallic capabilities that enhances documents with true pantone silver 877 for variable print personalization!
The Xerox 1000i Press is the first in the industry to offer digital metallic silver ink at rated speed. Now, statements, letters, rewards checks, postcards, and self-mailers can be enhanced with eye-catching, shimmering metallic silver variable elements – amazing even the most experienced eye. Lucrative foil stamping applications, such as invitations, certificates and business cards and now migrate to short-run, high-value digital production.
Want to be a star? Do you want to accent marketing pieces with a brand-new, dramatic impression that's both unique and memorable? Our digital center is now one of the most advanced, compelling creative solutions in the country. Call us for a discussion – all that glitters at SeaChange is not gold. It's Silver.
---
Our Technology Solutions Team Just Got Stronger.
SeaChange has welcomed Frank Saaranen as the Director of IT, bringing 30+ years of print and IT experience. Since earning a B.S. in accounting from St. Cloud State University, Frank has a solid understanding of the printing industry.
Frank is our E-Solutions foreman. His craftsmanship with SeaChange IT architecture will enable our support of our overall customer relationship approach from vertical, single-channel operations to true horizontal business processes that deliver cross-channel integration.
Overall, Frank has a keen interest in all systems that improve internal efficiencies and support the needs of customers. For the past 15 years, he has led IT teams for RR Donnelly that focused primarily on workflow systems and customer-facing technology solutions. And with our focus being 100% customer, this is a perfect match.
It's an exciting time and we thank you for sharing it with us.
---
Behind The Ballot 2015.

On Tuesday, February 3, SeaChange will welcome over 60 State and County election officials to our Plymouth location for Behind the Ballot.
Behind The Ballot is more than an open house; its an under the hood look at what goes into producing ballots for the 84 Minnesota counties with which we partner. The evening will be full of fun along with a guided tour of operations and a behind the curtain look at the first of its kind end-to-end ballot production system ever!
Through embracing technology, we have created an efficient system ensuring every ballot is produced with accuracy. And in the end, every vote counts.
---
A Penny Saved is a Penny Earned.
We're excited to share some "buzz" that is making rounds in the mail industry. As you may have heard the USPS has announced four (4) promotions for 2015. While not the number of promotions as in the past, (4 vs. 8) these seem to run for longer periods of time. The promotions are designed to save direct mailers money and generate new business – similar to past years. Additionally, they aim to help reduce the decline in First-Class letter mail volumes.
Here is a brief description of each promotion, and a calendar is also available below:
First-Class Mail Color/Trans-promo Promotion - Supports the continued growth of First-Class Mail and encourages mailers to invest in color print technology for bills and statements. Utilizing color ink on bills and statements may encourage higher responses from consumers. In 2014, an upfront postage discount was offered.
Mail Drives Mobile Engagement Promotion - Demonstrates how direct mail, combined with mobile technology continues to be a convenient method for marketers to connect with their customers and facilitate more ways to do their shopping. Mail pieces will typically include scan-compatible print and mobile technology leading the recipient to mobile-optimized experience. In 2014, an upfront postage discount and rebate was offered.
Earned Value Reply Mail - Slows the decline of First-Class Mail (Business Reply Mail and Courtesy Reply Mail) through a postage credit back to the mailer for each reply mail piece returned from a customer. In 2014, a postage credit was also offered on qualifying pieces.
Advanced or Emerging Technologies Promotion - Encourages the use of "enhanced" augmented reality or standard Near Field Communications (NFC) technology in mailing campaigns to allow mobile devices to provide an interactive experience for the user.
Timing is available in our promotions calendar. Here at SeaChange we use Window Book's DAT-MAIL software to ensure your files meet the requirements for these promotions. If you're wanting to participate, give us a call at 763-586-3744 and ask for Lyuba Wallin – our Mailing Operations Manager and she will be delighted to answer any question you have. Each promotion and incentive program requires separate registration, so don't delay. If preferred, e-mail her at lyubaw@seachangemn.com.
Stay tuned for future updates on the finalization of these 2015 promotion and incentive programs.
---
Postal Industry Transformation.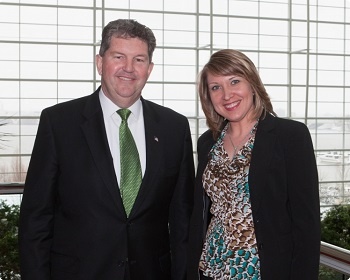 SeaChange means transformation and the Direct Mail Industry has been through plenty of transformation and innovation in the last decade. We went from using Postnet to Intelligent Mail Barcode (IMB), from hard copy statements to seamless acceptance and eInduction. During the 2014 National Postal Forum (NPF) the focus was on the pace of change in the industry and using data and technology in innovative ways to attract and retain customers through direct mail. Meeting the Postmaster General at the NPF was not only exciting but invigorating, as he looks ahead of leveraging direct mail across multiple marketing channels.
Under the leadership of current Postmaster General Patrick R. Donahoe, the USPS has led continuous improvement efforts to streamline operations, improve tracking and provide greater predictability and reliability to business mailers across the country.
And this is just the beginning! In 2015 Megan J. Brennan will become the first woman to be Postmaster General – as the ideal choice to replace Patrick R. Donahoe, who will be retiring in early 2015.
Here at Seachange- we are excited for the future ahead, the leadership and the value that Direct Mail brings to marketers across the United States. We believe in continuous improvement, education and staying abreast of changes in the industry.
So no matter how big or small your direct mail project is- we are ready to help you reach your audience on time and within budget. It's go time!
---
SeaChange Is Going Solar.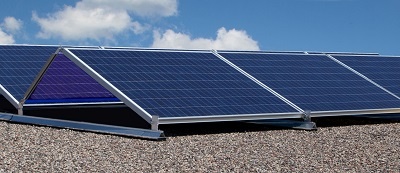 SeaChange will be installing 1,868 square feet of solar panels on the roof this spring. These panels will generate 28,600 KWh per year. Solar energy is a non-polluting renewable source of electricity. It does not pollute the air like fossil fuels which release harmful gases like carbon dioxide. While these panels will not supply all of the electricity our facility requires, it will reduce our overall annual consumption. CO2 gases will be reduced by 24 tons annually. Using alternative energy is just one more choice SeaChange has made to bring innovative solutions to our business – and the environment.
---
We Are Expecting a Big Delivery.
While we purchased equipment from a previous entity when launching SeaChange, you can rest assured that's just a starting point. In fact, we're anxiously awaiting the December 15th operational launch of our newest addition: the KOMORI GL640C Sheetfed Press.
This six-color 28"x40" offset press includes a high capacity drier for specialty coatings and is set to go UV later this spring. With the UV capabilities we'll print on paper or plastics and offer exceptional ink hold on uncoated paper. We're especially excited about the eye-catching coatings and techniques — perfect for helping you create stand-out packaging.
You'll find this press to have a 55" LCD display showing pdfs and live sheets. It will be fully integrated into our prepress and MIS systems for maximized efficiency. It's a fast press, running 16,500 sheets per hour, and uses an automatic spectrometer to deliver color consistency throughout each run.
Our commitment to continually reducing our carbon footprint greatly contributed to our choice in the KOMORI GL640C. Its lower use of consumables, lubricants and energy in addition to a 20% lower VOC emission rate made this decision one that fits just right with our sustainability initiatives.
Stay tuned for more new technology and equipment. We're just getting started.
---
Thankfulness.
Today at SeaChange, we would like to express our heartfelt appreciation for the following:
Our Employees. Without you, we could not take care of our Customers.
Our Customers. Without you, we could not take care of our Employees.
Our Health. Without this, we could not take care of our Customers and our Employees.
Your dedication to our Organization is the reason we are all here. And as the holiday season begins, we are grateful for this time of year when we can gather and enjoy a holiday meal with our entire staff and feel the energy and joy from everyone within our transforming organization.
We will be taking time to spend with our friends and families and will be closed on Thanksgiving Day, November 27 and Friday, November 28.
From all of us at SeaChange - Have a safe, warm and joyful Thanksgiving.
---
It's Time for a SeaChange.
SeaChange. It's a word that means transformation. And today, we're excited to welcome you to our new company, our blog and a whole new approach to printing.
We've bought assets and brought on employees from a previous enterprise. But that's just a starting point. SeaChange is a new company with a new management team with a fresh approach. And we're investing in new press equipment, digital equipment, technology and personnel. It's the perfect balance between a start-up and an acquisition.
While you'll hear us talk a lot about innovation in upcoming posts, the word you will also hear often is nimble. It's a perspective that drives everything we do — and it's at the core of our approach in the work we do. You'll notice it when you request your first quote. Expect it in a few hours – instead of the next day. Need proofs? You can expect those same day. And, you guessed it: Expect your projects to be turned around quickly too.
So welcome to SeaChange. We hope you'll join us for the transformation. We're ready.
---