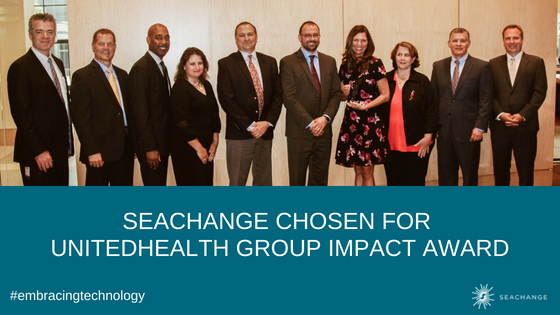 We believe creative approaches come from teams with a wide range of experiences and perspectives. So you can imagine how excited we were when one of our clients, UnitedHealth Group, recently recognized us with an IMPACT Award for Technology and Innovation.

Like UnitedHealth Group, which has a Supplier Diversity program that hosts the IMPACT Awards, we've made a big commitment to diversity. We have a second-tier diversity plan with more than 10% of purchases from diverse suppliers, and 43% of our staff are female. We're also Women's Business Enterprise (WBE) certified, and President and CEO Wendi Breuer serves on the NAWBO board of directors.

So why technology and innovation? We learned two key things made SeaChange stand out to the team at UHG. Our GATHER online portal enables easy ordering, secure online proofing, and real-time production tracking. And our active accreditations in SOC2 and HITRUST give clients with sensitive data—including those in health care—peace of mind knowing we've taken big steps to ensure security.