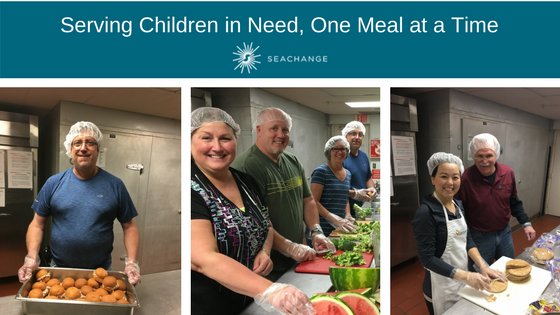 The presses might not stop at SeaChange, but our team takes time out regularly to support Greater Minneapolis Crisis Nursery in its mission to end child abuse and neglect and to create strong, healthy families.

Crisis Nursery supports families 24 hours a day, 365 days a year, and we help on a regular basis by sponsoring and serving meals through the Cook for Kids program. In teams of six, we prepare food and then have fun sharing a meal with children and staff. It's a heartwarming experience that includes laughs, stories and some much-needed cuddles.
Because we care so deeply about giving back to the community, we offer paid volunteer time for staff to participate. And so far the program has been a great success. "Every single person that has gone has been touched by the program and the children – including me," notes Missy Winge, our HR director.
Along with the Cook for Kids program, we've also helped Crisis Nursery with donations for the center and families in need. Wondering how you can help?
Learn more
about this great organization.