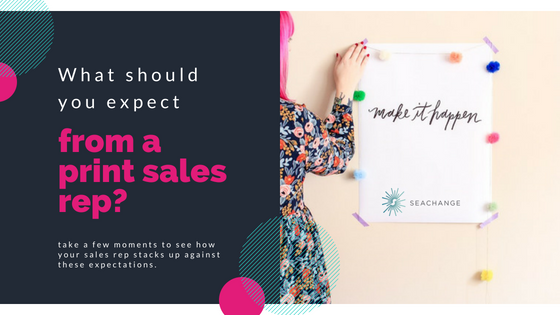 You've probably heard the old phrase "if it ain't broken, don't fix it." When it comes to relationships with print reps, many designers and marketers take this approach. It's natural to fear change, and sometimes sticking with the status quo just seems easier.
But it's important to ask yourself: Is your relationship with your print rep really working for you? Or is it broken in little ways you've been ignoring? Take a few minutes to think about how your rep stacks up against these expectations:
Responsive partner - Delays aren't just frustrating you, they can compromise how your internal and external clients view you as well. Whether you're just starting a quote or you're on press, you deserve a rep who can respond quickly. Quotes should be turned within 24 hours, and open, honest communication should occur throughout a project to help prevent delays.


Big-picture thinker - Reps see dozens of print projects every day. Take advantage of that experience, and expect your rep to offer expertise throughout the project. A good partner will suggest certain treatments that can enhance a project and offer tips that only come from experience, such as "soft touch doesn't work well with silver" or "a clear varnish on white will be almost invisible." Bonus: Check out The Ultimate Guide to UV Printing White Paper.


Efficiency guide - Designers rarely, if ever, encounter a client that isn't concerned about budget. That's another area where print reps can help. Expect them to offer alternative approaches that can save money and reduce waste. You should hear things like "since two of your project covers are running on the same form, you can add soft-touch UV coating to all of these components without incurring any additional cost" or "if you shrink the overall size of this by 10%, you could save $500."


A printer with passion

- Sure, print reps are essentially salespeople. But they shouldn't act like they're selling just another product. The printing industry is filled with beautiful design, creative thinking and strategic problem-solving - and your print rep should have a passion for them all. While you want a rep who supports your ideas, he or she shouldn't just go along with everything. Choose a rep who adds to the conversation. The right partner can inject excitement into even the simplest projects and help you stay inspired day to day.
If your print rep isn't living up to these standards, it's probably time for a change. Get in touch with us, and discover how much easier your job could be with the right partner.