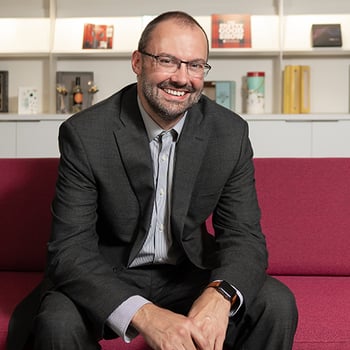 ARIN BROWN, SEACHANGE CTO, CHOSEN AS FINALIST FOR ORBIE® AWARDS
Each year the Twin Cities CIO ORBIE® Awards highlight "the leadership stories of local CIOs and how they are shaping their industries through technology and strategy." We're thrilled to announce our Chief Technology Officer, Arin Brown, is a finalist for this year's award.
Shortly after Arin started at SeaChange, he and I recognized the need for an online ordering and data analytics platform that would set SeaChange apart. Arin often says, "In a world where anyone can see when their pizza delivery comes out of the oven, it didn't make sense to us that marketers and corporate communication directors couldn't have the same level of assurance about the execution of their campaigns." After discovering that no off-the-shelf system would provide the rich features they were seeking, Arin led the design, creation and development of GATHER, a revolutionary digital marketing automation platform, which allows clients to personalize and order digital and print marketing. It's a hosted SaaS solution that has direct, real-time integration with our clients' platforms through APIs and delivers real-time reporting and analytics.
Arin also helped unify our executive leadership team and IT team around the importance of earning HITRUST certification and SOC2 compliance. They obtained SeaChange's initial HITRUST certification in under 4 months – something that usually takes 18-24 months in our industry.
For these reasons and more, we think Arin deserves this recognition – and we wish him and all the other finalists the best. The winner will be announced September 23 in Minneapolis.