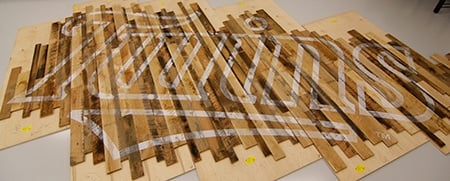 Summer may be winding down, but there is still plenty of time to head to Target Field to catch the Minnesota Twins in action. While you're there you can see yet another way SeaChange has been working in an innovative way.
SeaChange recently printed a large piece of artwork as part of the ceiling of the 1
st
level of the Twins Stadium, near the left field fence. This 18' by 30' sign was printed on barn boards with a plywood backer using our FujiFilm Aquity Advanced High Speed Press. Our large format UV printing process allows us to create a final product that is durable in all elements. UV lamps are utilized by energizing the ink in the curing process. The final sign was printed using white ink, generally unique to the process.

Planning this project was like creating a large format puzzle, knowing the lines of the logo must line up perfectly once in place at the stadium. We hope you'll have the chance see this sign for yourself. It's just one more example of our how our SeaChange team creatively accommodates our client's needs, regardless of the challenge.
Go Twins!