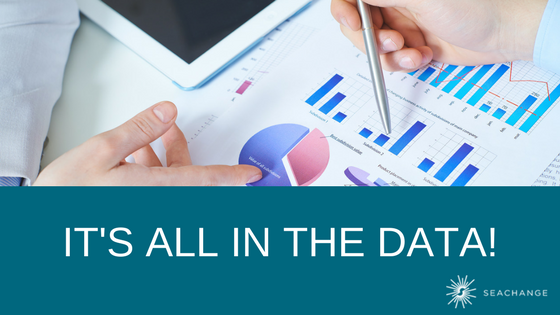 Getting the right message in front of the right audience, at the right time can help drive a desired consumer behavior and contrary to what you might think, doing this successfully is not about capturing more data; it's about capturing data that can drive better business decisions. In an InfoTrends study[1] it was reported that over 61% of the surveyed 800+ enterprises used personalized and segmented communications today. Today's marketers understand that data is the cornerstone of any effective marketing strategy—it is essential for customer acquisition, retention, and increasing the overall customer relationship.
According to an Experian study[2] of more than 1,400 customer service, data, marketing, sales, and technology professionals, the most critical reasons for maintaining a high-quality data strategy include: increased marketing efficiency, enhanced customer satisfaction, enabling better business decisions, and generated cost savings. 84% of respondents acknowledged that data was an integral part of forming a business strategy, but they were faced with a high degree of inaccurate data that was hindering their ability to execute effectively. The primary issues that marketers were encountering included incomplete/missing data (60%), outdated information (54%), duplicate data (51%), inconsistent data (37%), and typos (30%). Given these challenges, data management was top of mind for these marketing executives. Over the next year, the survey respondents expected to take on a number of data management projects to improve data quality, including cleansing (37%), integration (37%), migration (31%), and enrichment (31%).
As we move into 2017 and beyond, data-driven marketing is going to get bigger, better, and more integrated into the consumer experience. Meeting the data challenge means implementing the right resources and partnerships to understand the data that you have and uncovering the data that will drive more results for your marketing efforts. In its recent survey[3] of over 250 marketing executives and 50 agency executives, InfoTrends sought to undercover how data is being used to better sales and marketing results. The respondents highlighted the following areas of importance:
Understanding the path to purchase is critical. You need to understand which channels work best for various customer types, and the path of navigation must be monitored throughout every campaign.
Messaging needs to be consistent and personalized across all channels.
Marketers are spending their money on an array of data-related services, including data quality, data enrichment, data mining, analytics, and predictive modeling.
While marketers want to take a data-driven approach with their customers, many are still focusing on data collection and lagging behind when it comes to making data actionable. A significant number of marketers still lack the internal experience—either at the functional or operational level—to be successful. More than 70% of the marketers that InfoTrends surveyed highlighted challenges related to quality data, disparate data sources, and inadequate skills/technology/expertise. Key areas where they needed to enhance capabilities included social media strategy development, mobile strategy development, optimizing purchasing behavior on ad exchanges and search engines, tracking direct mail campaigns, aggregating data from multiple sources, keeping data clean, and creating a personalized and relevant customer experience. Content must then be delivered via multiple channels that may include print as well as a variety of digital communications. Then finally, the customer responses need to be measured and fed back into the database to serve as input for subsequent cycles of communications within the next interaction of the customer's journey.
Lastly, another recently published InfoTrends study[4] found that the top three challenges for marketing implementing customer communication solutions were data management/data access, building a business case for increased personalization of customer communication and defining the specifications for RFP/RFQs when seeking outside providers to assist with customer communications. While it might be "all in the data," marketing executives are acknowledging these data challenges and making strides to overcome them to create a better customer experience.
Which is your most pressing concern and why?
[1] Micro to Mega: Trends in Business Communications. InfoTrends, December 2015 [2] 2015 Experian Data Quality Study [3] Lead with Data: Follow with Print. InfoTrends, December 2016 [4] Customer Engagement Technologies State of the Market 2016, InfoTrends 2016