SeaChange means transformation and the Direct Mail Industry has been through plenty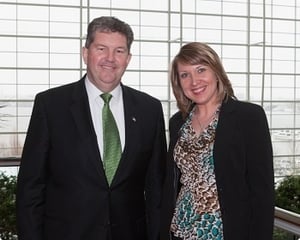 of transformation and innovation in the last decade. We went from using Postnet to Intelligent Mail Barcode (IMB), from hard copy statements to seamless acceptance and eInduction. During the 2014 National Postal Forum (NPF) the focus was on the pace of change in the industry and using data and technology in innovative ways to attract and retain customers through direct mail. Meeting the Postmaster General at the NPF was not only exciting but invigorating, as he looks ahead of leveraging direct mail across multiple marketing channels.
Under the leadership of current Postmaster General Patrick R. Donahoe, the USPS has led continuous improvement efforts to streamline operations, improve tracking and provide greater predictability and reliability to business mailers across the country.

And this is just the beginning! In 2015 Megan J. Brennan will become the first woman to be Postmaster General – as the ideal choice to replace Patrick R. Donahoe, who will be retiring in early 2015.
Here at Seachange- we are excited for the future ahead, the leadership and the value that Direct Mail brings to marketers across the United States. We believe in continuous improvement, education and staying abreast of changes in the industry.
So no matter how big or small your direct mail project is- we are ready to help you reach your audience on time and within budget. It's go time!