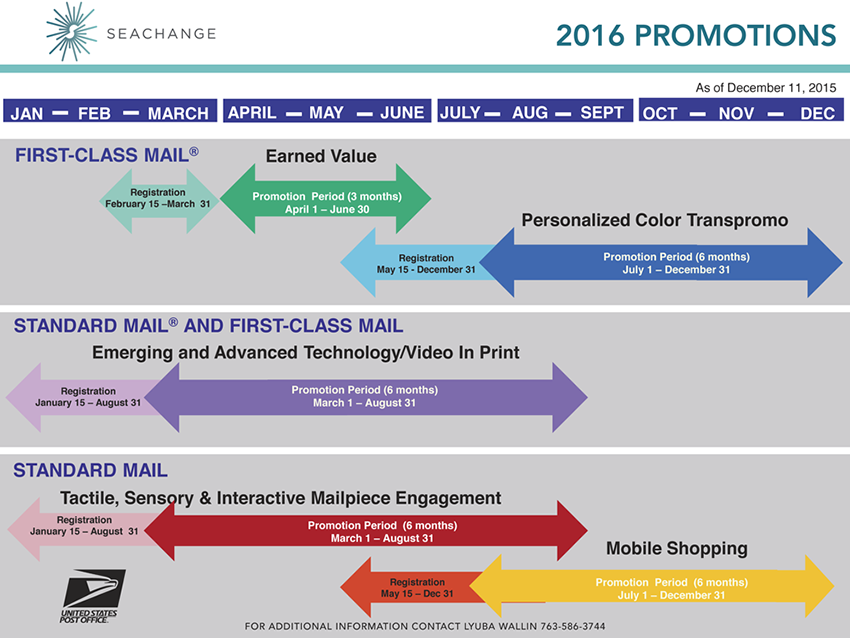 The Postal Regulatory Commission approved the five (5) proposed USPS Mailing Promotions for calendar year 2016. These promotions are designed to create excitement about mail, slow the decline of First-Class mail and provide multiple opportunities for mailers to enhance the value of their direct mail. Last but not least, mailers will receive a 2% upfront discount on qualifying mailpieces, with the exception of Earned Value Reply Mail Promotion that offers either a $0.02 or $0.03 rebate credit on qualifying mailpieces.
Earned Value Reply Mail Promotion.

This promotion is designed for those mailers that include Business Reply Envelope or Courtesy Reply Envelope in their direct mail marketing materials. Mailers who register their MID information and use eligible Intelligent Mail® barcodes (IMbs) on their reply pieces will receive a postage credit for each mailpiece that is returned during the promotion period.
Personalized Color Transpromo Promotion.
The 2016 Personalized Color Transpromo Promotion is intended to encourage producers of bills and statements to produce and mail statements that create a greater connection and response from consumers by using personalized color messaging. This promotion will provide an upfront postage discount to mailers who use personalized dynamic/ variable color print for transpromotional marketing and consumer messages on their bills and statements.
Emerging and Advanced Technology/Video in Print Promotion.
The USPS continues to encourage mailers to integrate direct mail with technology, providing an interactive experience for customers. To participate in the promotion, the mailpiece must incorporate any of the following technologies, including: standard NFC technology, Video in Print (ViP), Beacon technology or "enhanced" augmented reality. This year's promotion includes an option for A/B testing.
Tactile, Sensory & Interactive Mailpiece Engagement Promotion.
This promotion encourages mailers to adopt advanced techniques on their mailpieces in order to drive customer engagement and response rates. There are three featured categories in this promotion:
Specialty inks
Specialty paper
· Interactive elements on envelope and/or mailpiece content
Mobile Shopping Promotion.
Mailers using technology platforms such as Quick Response (QR) Code, Snap Tags, Watermarks and other advanced technologies meet the criteria for this promotional discount. The goal is to lead the consumer from the mailpiece to a complete mobile optimized website. This year's promotion adds social media opportunities through "Buy It Now" features highlighted to support shopping during social media activities.
Timing of each promotion is listed in the promotions calendar. To learn more about 2016 USPS promotions, please contact Lyuba Wallin at 763-586-3744 or lyubaw@seachangemn.com.