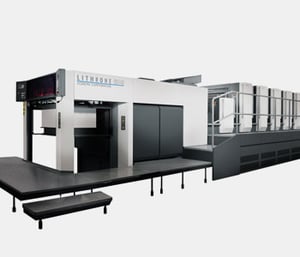 While we purchased equipment from a previous entity when launching SeaChange, you can rest assured that's just a starting point. In fact, we're anxiously awaiting the December 15th operational launch of our newest addition: the KOMORI GL640C Sheetfed Press.
This six-color 28"x40" offset press includes a high capacity drier for specialty coatings and is set to go UV later this spring. With the UV capabilities we'll print on paper or plastics and offer exceptional ink hold on uncoated paper. We're especially excited about the eye-catching coatings and techniques — perfect for helping you create stand-out packaging.
You'll find this press to have a 55" LCD display showing pdfs and live sheets. It will be fully integrated into our prepress and MIS systems for maximized efficiency. It's a fast press, running 16,500 sheets per hour, and uses an automatic spectrometer to deliver color consistency throughout each run.

Our commitment to continually reducing our carbon footprint greatly contributed to our choice in the KOMORI GL640C. Its lower use of consumables, lubricants and energy in addition to a 20% lower VOC emission rate made this decision one that fits just right with our sustainability initiatives.
Stay tuned for more new technology and equipment. We're just getting started.